The ARTMAXION Tutorial Bundle
An affordable bundle for Beginner to Intermediate Artists who want to grasp the basics and beyond.
(No experience necessary.)
This is the course you've been starved for.
Your goal is to better your abilities, and not waste time scouring YouTube for decent lessons. You want to work from your imagination, and give form to your inner worlds.
I'm Taylor Payton and my story is simple. I used to draw very poorly.
Even when I was going to college for media arts and animation, my work was fairly sub-par.
It wasn't until I Discovered artistic fundamentals and began to apply them that I saw real improvement.
Some of these concepts are applied to the image below.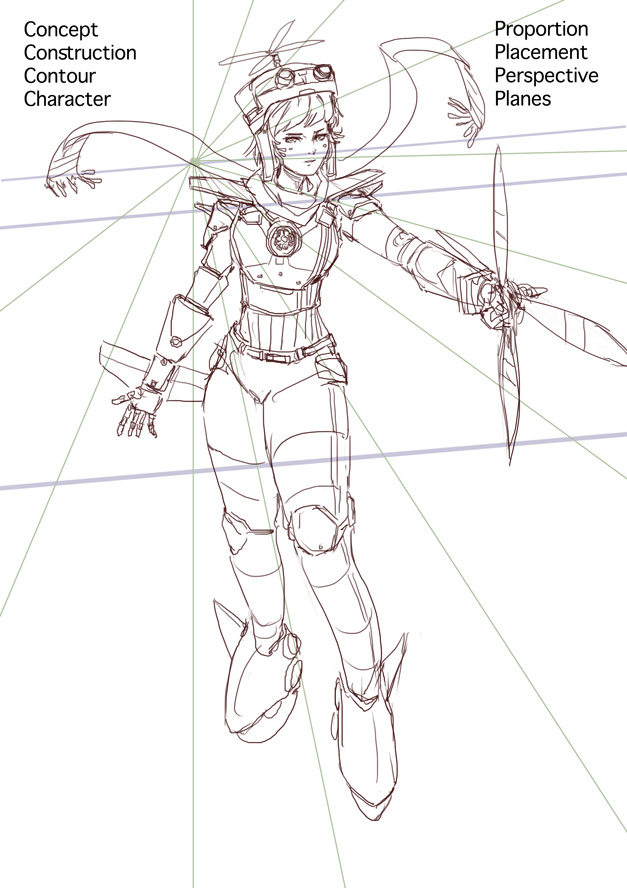 Higher skill and praise await.
Are you ready to leverage the same techniques the masters used?
This bundle will give you practical ways to learn to draw, paint, and more.
The very same things that industry professionals go to time and time again to achieve their high-caliber work.
You too can learn these principles, and what's more is you can use them to strengthen your work TODAY.
That's because they're ever-present, and they don't care if it's a landscape or a giant mech you're creating.
Yes, these basics work with anime, cartoons, realism, and pretty much any other representational style you can think of.
A Powerful Course Curriculum.
Here's a big-picture look at all of the content that this course holds for you:
1. Intro to Drawing - The right state of mind, body, and attitude.

2. Fundamentals - The basis of drawing evolution

3. Drawing from life - Going to the source

4. The Gesture of Drawing - Speeding up the eye, mind, and hand

5. Values and Forms: - Values are second only to drawing in importance.

6. Easy and effective perspective - Create an instant feeling of space.

7. Creative drawing - Using Reference as a path to success.

8. Drawing from imagination - The mind's eye
Or if you're looking for even more potent lessons:
9. Problem Solving in Drawing - Eliminating errors that will muddy your work

10. Potent Practices - Exercises that can double or triple your abilities

11. The 10 elements of drawing magic

12. Intro To Illustration
This is your ladder.
As you ascend in understanding and ability, you'll find drawing is easier, more enjoyable, and just makes more sense to you than ever before.
Climb it at your own pace. There are no true deadlines.
Assignments Included.
These have been specifically designed to expedite your understanding and application.
The assignments will serve as guideposts - allowing you to wrap your efforts around an objective, thus generating more proverbial EXP points.
Yeah, drawing is a lot like a game. And once you walk through these assignments you'll be playing in no time.
My goal is to help you eliminate painful stumbling blocks and wasted effort.
Don't fritter about like a flailing flea in hot bathwater. That's not how you learn to swim.
Instead, take the structured approach.
Learn to wield these mighty principles.
Absorb visual information from life, and to transfer that power into your work.
ARTMAXION - ARTIST ASCENT COURSES
You will gain access to download every tutorial and course.
That's over a $200 value.
This package will teach you beginner, intermediate, and advanced drawing & painting concepts.
Not only that, but you'll learn several ways you can make money with your art (including how to do what I'm doing, creating and selling courses.)
It is my sincerest wish that you won't have to struggle artistically or financially any more than is necessary. That's why I've put together this affordable and valuable package.
So many artists are stuck creating terribly flawed work for years just because they don't avoid the simple mistakes that many have made before them.
I'm not afraid to admit that I was one of those artists.
In fact, I still slip up. I'm human, we all are.
But these mistakes don't keep me down. I learn. I grow, and I prosper.
However, some artists aren't so fortunate...
they sell their art for so cheap they can't make a living.
These poor artists struggle from commission to commission, sometimes working 10+ hours for a meager $50.
And the saddest thing of all is, they never figure it out.
What is "it" you ask?
It's that if you do what successful artists do, you can achieve similar results.
That's not a very hard concept to understand-- in fact, it's quite easy to get.
All you need to do is resolve to become the best artist you can be, value your work, your time, and yourself, and you'll be on the fast track to success in any creative undertaking you decide to pursue.
Oh, don't forget to educate yourself and reach out to others who can help you. Those are big too.
This course is positively loaded with everything I know about creating strong work, selling that work at an abundant price, and living a life of creative freedom.
What you'll get:
•The Beginner Drawing Course
• The Beginner Painting Course
• Art Commission Specialist
• Overwatch Tutorial Bundle (Patreon Term 02 package)
• Patreon Term 01 Package
• Brushido Brush Pack + tutorial
• Anime Character Painting Tutorial
• Art Evolution Course Bonus Tutorials
• Design and Paint a character Tutorial
• Digital Painting Workflow and Techniques (The tutorial for the cover image of the Platinum Package.)
• Illustration Start-to-Finish Tutorial
All you have to do is watch (and sometimes re-watch) one tutorial, practice the concepts until you get them, and then move onto the next lesson.
Simple.
Step-by-step you will get ahead, then one day you'll look back and realize you've taken a massive leap.
It is my absolute and sincerest pleasure to serve you with this knowledge, this power. These are the concepts that separate the amateurs from the professionals, the person painting their uncle's dog for $20 and the artist closing a $1000+ gig for a studio or advertising agency.
Whether you're just getting started on the right foot, or you've been a weary traveler looking for a place to refresh your perspective and augment your journey with the tools you need to grow-- this ARTMAXION PACKAGE will serve you well.
Happy Drawing, Painting, and Creating,
-Taylor